UPDATE 2023: Goa Town has relocated to calle Los Huertos, Nerja.
Goa Town is a small Indian restaurant located in calle Hernán de Carabeo, or just 'calle Carabeo' as it is more generally known. It is fairly small inside and has two 'tables for two' on the (narrow) street.
Continuing my theme of 'try something different', I opted for lamb Hundi, described on the menu as 'One of the great dishes of India. This is cooked with aromatic Indian spices, onions, tomatoes and peppers. It is served with a beautiful spicy sauce'. Sounded good. Pilau rice.
A couple of popadoms and various pots – chopped red onion, a spicy paste/sauce, a sweet chutney and some 'green liquid' – arrived fairly quickly to tide me over until the main meal. These are complimentary. Excellent.
Always nice to sit outside and watch the world go by. Of course, people will generally be drawn to having a peek at what you are eating, but we all do it I'm sure!
The main course arrived.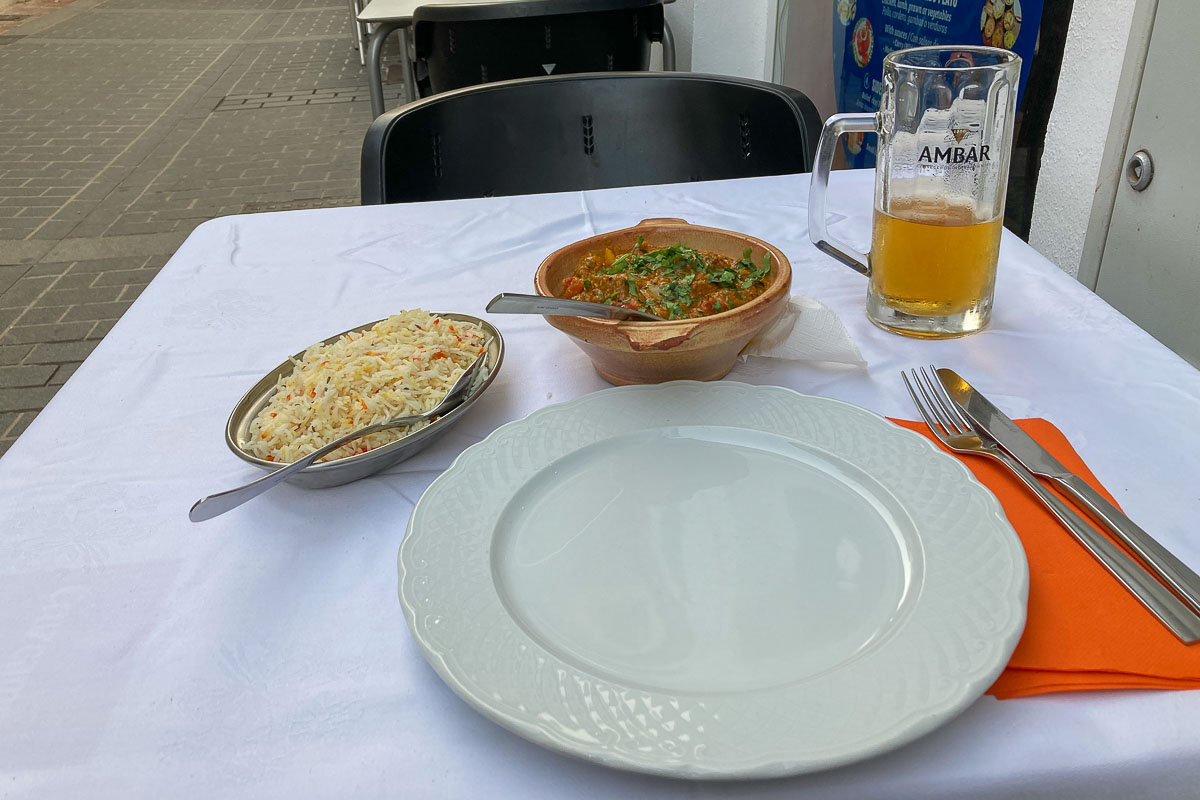 And then it was gone! Very nice indeed. Tasty, plenty of spices for flavour but just a medium 'heat'.
Later, I did search for 'Hundi' and found….nothing. Found "Handi' as being a pot widely used in Indian cookery and also as the name of dishes…Maybe a very local name, or a typo as we also have 'Sandy' as a drink on the menu (shandy). Who knows? Anyway, service was very good, food was tasty, being on the street was great and pretty good value for money (Hundi = €13.00, Pilau rice = €2.90, Big Beer = €3.80).
I would definitely recommend Goa Town and am going to have to give it: