This is a trip best taken by car, although there are coach trips to this picturesque town or trips combining Ronda and Setenil de las Bodegas.
Setenil de las Bodegas is a small town, population around 3,000, in the province of Cádiz, Spain, and is famous for its dwellings built into rock overhangs above the Rio Trejo.
The town is built along the Rio Trejo with many houses being built into the rock walls of the gorge itself, created by enlarging natural caves or overhangs and adding an external wall. A very picturesque little town. The old church and the renovated fortress tower high above the town.
This small town is located 157 kilometres (98 miles) northeast of Cádiz and the town extends along the course of the Rio Trejo.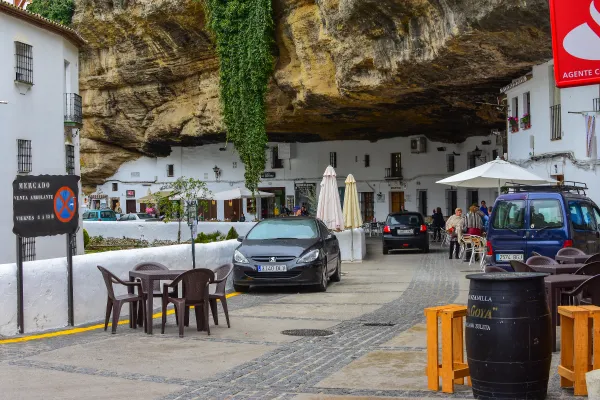 Typical Moorish white-washed houses with very narrow streets – but that doesn't prevent them from being two-way for traffic!!
Setenil has a reputation for the quality of its meat products, particularly chorizo sausage and cerdo (pork) from pigs bred in the surrounding hills. As well as meat, it also produces some fine pasteles (pastries), and its bars and restaurants are among the best in the region. The outlying farms also provide the town of Ronda (also an excellent place to visit) and other local towns with much of their fruit and vegetables.